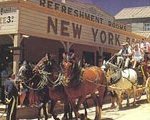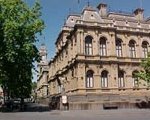 Bushwalking
There are quite a number of scenic walks should you wish to explore the Goldfields region by foot. While in Ballarat follow the scenic path along the edge of Lake Wendouree, a 6km walk along flat terrain. The walk begins at Gillies Street Kiosk, Ballarat.
If visiting Heathcote, make the short climb up Mt Ida for superb views of the surrounding region.
Enjoy a walk through Whipstick State Park, situated just 8km north of Bendigo. Take a picnic and look out for old gold mining relics.
Golf
If a game of golf is on your agenda, visit
Bendigo Golf Club (Golf Course Road, Epsom, Ph: 5448 4206),
Eaglehawk Golf Club (Golf Links Road, Eaglehawk, Ph: 5446 8592),
Neangar Park Golf Club (Averys Road, Eaglehawk, Ph: 5446 8223)
or Maryborough Golf Club (Park Road, Maryborough, Ph: 5460 4900).
All have 18 hole courses and are suitable for juniors to professionals.
Sovereign Hill
Learn about Victoria's gold mining history and visit Sovereign Hill (Ph: 5331 1944) in Ballarat.
Horse Riding
Go horse riding in Bendigo at Ironbark Riding Centre (Watson Street, Bendigo, Ph: 5448 3344 or 0427 084 437). Half hour rides to full day rides are available.
Wineries
Spend a day sampling the fine wines of the Goldfields region at the following wineries:
Chateau Leamon (10km south of Bendigo on Calder Highway, Ph: 5447 7995)
Big Hill Vineyard (13km south of Bendigo on Calder Highway, Ph: 5435 3366)
Blackjack Vineyards (Calder Highway, 2km south of Harcourt, Ph: 5474 2355)
Harcourt Valley Vineyards (Calder Highway, Harcourt, Ph: 5474 2223)
Balgownie Vineyard (8km west of Bendigo, Hermitage Road, Maiden Gully, Ph: 5449 6222)
Heathcote Winery (183-185 High Street, Heathcote, Ph: 5433 2595)
Huntleigh Vineyards (Tunnecliffs Lane, Heathcote, Ph: 5433 2795)
Munari Wines (Cnr Schoolhouse Lane & Northern Highway, 13km north of Heathcote, Ph: 5433 3366)
Tipperary Hill Estate (Alma-Bowenvale Road, Alma, 5.5km from Maryborough, Ph: 5461 3312)
Chateau Dore (8km from Bendigo, Spring Gully Road & Mandurang Road, Ph: 5439 5278)
Markets
Bendigo: Every Sunday 8.30am - 3.00pm
Epsom: Every Sunday 8.30am - 4.00pm
Visitor Information Centres
Ballarat Visitor Information Centre
39 Sturt Street, Ballarat
Ph: 5320 5741
Freecall: 1800 648 450
Bendigo Visitor Information Centre
Old Post Office Building, 51-67 Pall Mall, Bendigo
Ph: 5444 4445
Freecall: 1800 813 153
Castlemaine Visitor Information Centre
Market Building, Mostyn Street, Castlemaine
Ph: 5470 6200
Freecall: 1800 171 888
Heathcote Visitor Information Centre
High Street, Heathcote
Ph: 5433 3121
Central Goldfields Visitor Information Centre
Maryborough Resource Centre,
Corner Alma & Nolan Streets, Maryborough 3465
Ph: 5460 4511
Freecall: 1800 356 511